Kree6528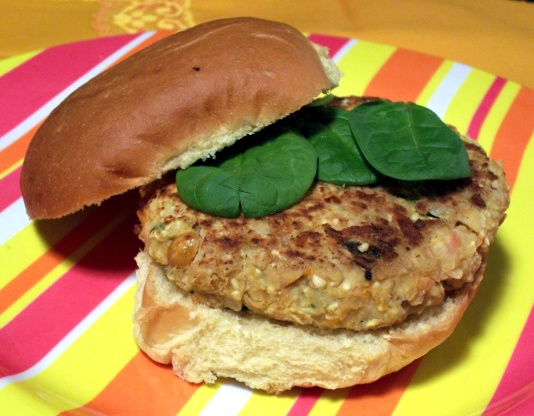 I just LOVE trying different vegetable burger recipes. They are all just slightly different. This is one I've adapted from a recent edition of the Australian magazine 'Women's Day'. This is a recipe which offers the scope for varying the ingredients to suit individual tastes.

These are a nice change from the usual storebought veggie burgers. The chickpeas, veggies, and cheese (or soy cheese in my case) gave these a delicious flavor. I did use the veggies suggested, omitting the leek. I also used Egg Beaters in place of the eggs and bread crumbs in place of the wheat germ. I cooked them in Pam instead of the 3 Tbsp oil to lighten things up a bit. I had some trouble getting these to be a "burger"-like consistency, as they were quite mushy, but they were much better after I added some extra breadcrumbs. Overall they were very tasty, and I plan to play around with them again soon!
Place the chickpeas and water into a food processor, and process until the mixture is the consistency of a coarse paste.
Heat 1 tablespoon of olive oil in a large non-stick pan over a medium heat, and sauté the onion, garlic and leek until they have softened, about 4 minutes; then add the cumin and sauté, stirring, for another minute; then add the chopped spinach for about 1 minute, still stirring, until the spinach begins to wilt.
In a large bowl, combine the chickpea paste, onion mixture, cheese, carrot, eggs and wheat germ; and season to taste; then shape into 4 even-sized patties.
Heat the remaining oil in the same pan that was used earlier, and cook the burgers until golden, about 2 minutes on each side; then drain on paper towels.
Serve in a crispy roll with hummus or tzatziki and salad greens.