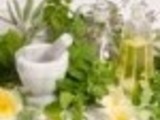 Here is winter time comfort soup. I substituted 2 cups for frozen vegetables for the mushrooms. I made this soup in the slow cooker and came out really nice.Low for 8 hours or High for 4 hours.
Directions
In large saucepan, heat oil over medium heat; cook onion, celery and garlic about 3 minutes.
Add mushrooms and cook another 3 minutes until softened; add barley and cook another minute.
Add chicken and beef stock, bay leaves and pepper;bring to a boil.
Lower heat to medium low; cover and simmer for 1 hour.
Add potatoes, carrots and salt; return to a boil.reduce to medium low and simmer 30 minutes until vegetables are tender. Discard bay leaf; add parsley.
Ladle into soup bowls and sprinkle on grated parmesan or cheddar cheese.
Most Helpful
Absolutely fabulous soup - thick,healthy and a perfect winter meal It was a breeze to make too which is always an added bonus . As this was the first time I had cooked with barley I was worried I would have trouble finding it at the supermarket but there it was with the dried lentils and split peas - no problems at all . I added a bit of chopped coriander and a bit of chopped basil along with the parsley and it was soooo good - so my thanks to Sage.
This is a very nice and filling soup. We love barley and I try to make at least one veggie meal a week so this will work great for us. I did add about a half can of diced tomatoes as they were in the fridge and I thought they would be a nice addition. This will certainly show up at our table again. Thank you for sharing your recipe.

We had this for our main meal tonight and enjoyed it a lot which wasn't too much of a shock because we are big fans of barley soups. The only slight confusion I had with the recipe was how the ingredients list mentions both beef and chicken stock but when I got to the liquid adding stage of the instructions it only mentioned chicken stock. I wasn't sure which was in error but from the amount of liquid barley usually sucks up I went with adding them both and that worked out well. A tasty and very filling and healthy soup. I used the slow cooker method of high for 4 hours and it worked well. Made for ZWT4.