Vegetable and Lentil Hotpot
MelNTex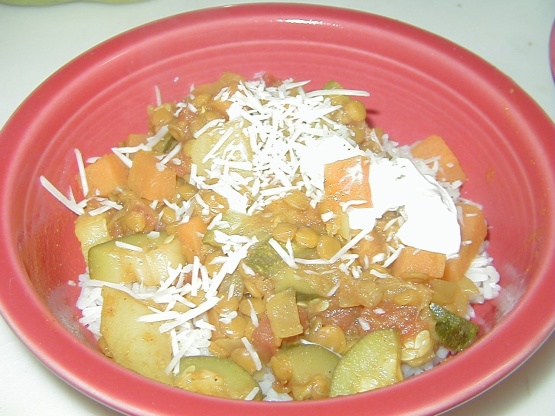 A healthy almost no fat dish and a great way to use up all the left over vege's in your crisper.

What a lovely easy dish to make. I used low fat cooking spray rather than the oil so it would fit in with my eating plan. I had never had lentils in anything other than soup and will certainly make this dish again. Like most things it tasted even better the second day, especially when served with a dollop of very low fat fromage frais and chopped fresh corriander. Delicious.
Heat oil and saute onion and garlic in sacuepan for 2 minutes or until onion has softened.
Add all spices and saute for a further minute or so.
Add all other ingredients and simmer covered, stirring every few minutes for about 25 minutes or until vegetables and lentils are cooked.