Zurie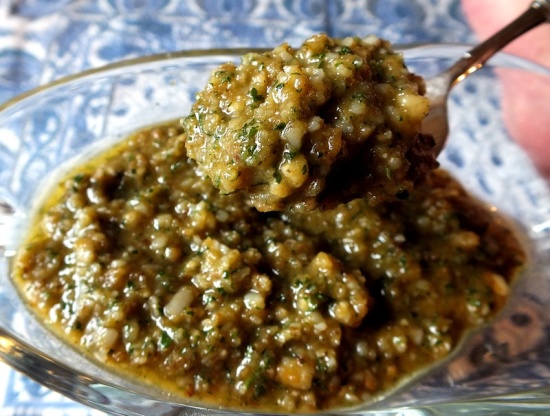 An Aussie variation on an old favorite. Use this to spread on fish, such as halibut or swordfish, before baking.

Top Review by Zurie
That 5 star rating comes from my heart!! This is an amazing "pesto". I had to use Marmite, as Vegemite is not available, but Marmite is so close, I'm sure it could not have made much difference! (My granny always used to have Vegemite at hand -- it seems it's not imported any more, shame!) The flavours of the walnuts, parmesan, garlic and parsley come through perfectly. The Marmite/Vegemite gives just the right amount of saltiness. (I used less Marmite, as it is possibly more salty than Vegemite). This salsa/pesto is so good that I had to stop myself eating spoon after spoon -- genuine! Husband agrees with me! It is great on toast, on crackerbreads, with bland meats like chicken breast, and it should be good with assertive fish like salmon. It also tasted great together with cheese! (Just be aware that the spread is lightly salty, so don't use salt before you've tasted your food). I'm saving the leftovers in the fridge, as I think it can last a long time and won't spoil. A great original, very imaginative, this recipe!! Thanks, Mikekey! MIKEKEY WAS A RUNNER-UP IN THE SEPTEMBER 2012 "DRESS A NAKED RECIPE" CONTEST IN THE FOOD PHOTO FORUM. Congratulations, Mikekey!
In a blender or food processor, briefly process the walnuts, Parmesan, parsley, Vegemite and garlic.
Add the oil and process until just combined.