Vegemite Asian Prawns With Green Slaw
JustJanS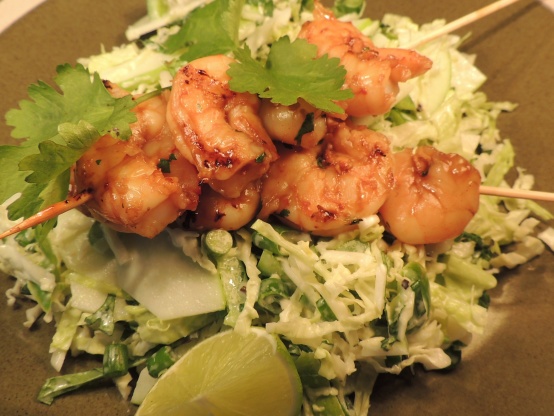 Well any of you that know me, know I am going to post any Vegemite recipe I find.................. Here is another, and well worth the cooking! Well......... So I am told as I do not eat . ....NO NOT VEGEMITE ... I do not eat seafood, but the lover's of both in this family think this was a great recipe.

We're happy little Vegemites tonight thanks Tis cos our dinner was delicious. It was so simple to put together, but SO good. You wouldn't know it was vegemite in the marinade (you might suspect miso or soy sauce) but as we love it we loved it. The coleslaw is worth making on it's own too. Thanks so much for posting!
Soak wooden skewers in warm water for 20–30 minutes.
Combine the coriander, Vegemite, chilli sauce, garlic, ginger and oils to make a marinade.
Thread the prawns onto the skewers, brush well.
with marinade and refrigerate for 30–45 minutes.
Combine the cabbage, capsicum, apple, spring onions,.
mint and dressing and refrigerate until required.
B.B.Q. the prawns over a medium heat for about 5–6 minutes, turning occasionally, until cooked.
Spoon the slaw onto serving plates and top with the prawn skewers.
Serve immediately.