Vegan/Vegetarian Pf Chang's Mongolian Beef (Tofu)
lrn2trvl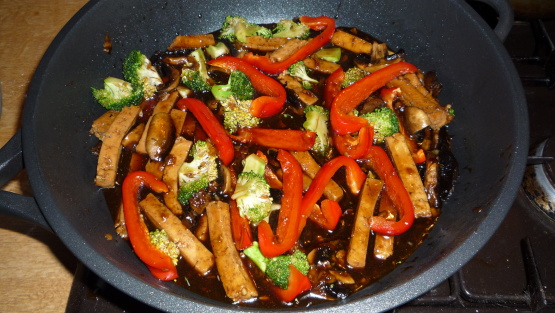 If you love PF Chang's Mongolian Beef, you'll love this vegan version. I make it for veg and non-veg people, and everyone agrees it's fantastic. I use organic and fresh versions of all of the ingredients. It's just better that way! Also, I have a big family, so this recipe makes a lot of food. Make it like it is and save some for lunches (it keeps well), or just make half the recipe if you don't want leftovers.

I just made this tonight and everyone loved it. Though I missed the step where I was supposed to add cornstarch, so I didn't add any. And really, it came out great, a tiny bit of liquid for the sauce--just right. With the cornstarch I think it would have been too thick. Thanks for sharing this.
Remove tofu from water and thoroughly pat with paper towels to dry.
Slice tofu in half lengthwise, then quarter it by cutting it in half along the narrow sides. You will have four rectangles. Keep them together, then begin slicing 1/4" slices from the narrow end. You should end up with lots of pieces that measure just over 1" long and about 3/4" wide.
Put these pieces on a plate, sandwiched between paper towels, and press them dry. This should get most of the water out.
Heat sesame oil in a deep skillet over low/medium heat.
Add ginger and garlic to the pan and lightly sautee for about 30 seconds. Do not scorch the garlic.
Add soy sauce and water.
Dissolve the brown sugar in the liquid, then raise the heat to medium high and boil sauce for about three minutes. It will thicken slightly.
Remove from heat and cool slightly.
Put tofu strips inside of sauce and marinate them for 30-60 minutes. You can start your rice during this step, if you plan to use brown rice.
Use a colander to gently strain the liquid from the tofu. Keep the liquid in a bowl for the next step.
Add cornstarch to liquid and dissolve.
Gently place the tofu back into the skillet (or in a wok, if you'd like) and brown it on medium. Don't turn it too often, or it will break. You can add a small amount of sesame oil to help it along.
Add green onions, peppers and mushrooms to the skillet or wok.
Pour sauce into the veggie mixture and heat, just until it's nice and hot.
Serve over brown rice or pad thai noodles.