Vegan Unrolled Cabbage Rolls
jenne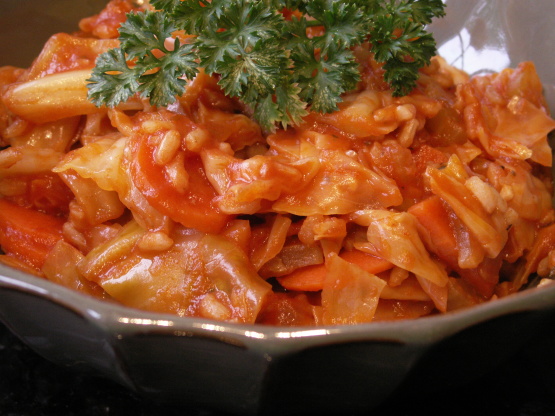 From Vegan Vittles by Joanne Stepaniak. This is a tasty, simple and hearty dish. I didn't have quick cooking brown rice and just used cooked brown rice instead- about a cup and a half- and it turned out just fine. I also doubled the tomato sauce because I wanted to use it up and it was delicious. You can definately play with this recipe. I may add some ground not meat next time.

This came out awful for me but I'm not going to give it stars since it was my fault it was awful and I wanted to share some tips for anyone else planning to make this!

I used regular (not quick cook) uncooked rice and allowed the rice to cook in the pot. It took about an hour for the rice to be semi-cooked and in the meantime I had to keep adding more water to help it along. This diluted the spices, tomato sauce, etc. each time so I ended up using huge amounts of ingredients. The rice still never quite cooked and it came out terribly bland.

Again, this disaster was my fault- so use quick cooking rice or pre-cook the rice ahead of time!
Place the oil in a 41/2 quart saucepan or Dutch oven, and heat it over medium high heat. When the oil is hot, add the onion, carrot, celery and garlic and saute them for 10 minutes.
Add the remaining ingredients, mix well, and bring the mixture to a boil.
Reduce the heat to medium-low and cover the pan with a lid and simmer the mixture for 30 to 35 minutes. Do not stir or lift the lid until the total cooking time has elapsed.
Remove the saucepan from the heat and let the mixture rest, covered, for 5 minutes,.
Stir to mix well and serve hot.