Xanthia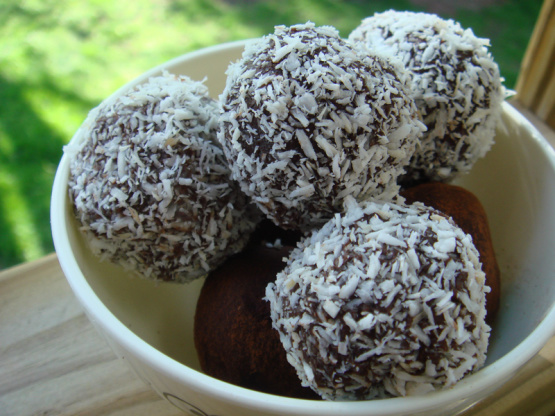 Incredibly yummy vegan truffles.

If I could rate this "10 stars" - I WOULD! Honestly, when I read the list of ingredients, I laughed. I thought that those ingredients could no way create a great tasting truffle. I prepared this recipe on a dare. Well I was WRONG.

OMG! This IS FANTASTIC. Vegans and NON VEGANS - LOVE LOVE LOVE THIS RECIPE. Its because of the ratings I dared to try it. Silky smooth texture and rich rich flavor. I used semi-sweet chips which were the perfect taste combo for me. BTW if you don't own a scale - 1lb of chocolate chips = 2 2/3 cups ( according to Hershey). That helped since most bags come in 12oz portions. Thanks for this recipe!
Put cashews and cold water in a blender and blend at high speed for 1-2 minutes (yes a long time).
Scrape the sides down and blend again until the mixture is the consistency of heavy cream.
Meanwhile, in a double boiler heat the chocolate until it's all melted.
Cool the chocolate until it's comfortable to work with and fold in the cashew cream (making sure not to stir too fast or you'll create bubbles).
Cool in the fridge for 2 hours (to set).
Take out a small ball, roll in cocoa powder and store in fridge/freezer.
Repeat until done.