Nikoma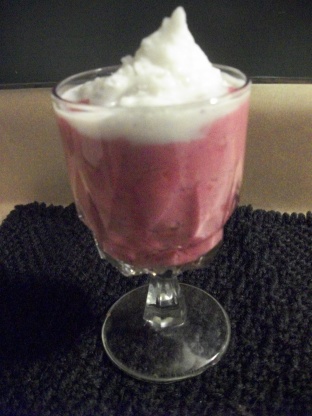 It just doesn't get much easier than this delicious summer pudding or custard. It can be prepared in less than 10 minutes (and that includes getting the ingredients out of your fridge), and is absolutely delicious. I got this recipe from my friend Alison about 10 years ago, and my snout has paid homage to her fabulous berry custard trough countless times since. This refreshing chilled treat makes a fantastic, simple, last-minute dessert; great after school snack; or guilt free treat on a hot Summer's day. Either way it is Soy Berry Good! You could substitute any berries you like for this recipe. If you are allergic to soy – fresh young Thai coconut meat and coconut water works really well as a substitute.

Top Review by Nikoma
YUM! I used 1/2 sugar and 1/2 maple syrup, and added a little vanilla. TAD bit sweet, I would cut back a little next time. I'd call it more of a pudding, but overall really tasty and satisfied the sweet tooth! Made a quick coconut milk sorbet to top it off with, and the flavors went together much better then I expected! Thanks!! Can't wait to make it with blueberries.
Put berries in a saucepan with the water and sweetener, bring to the boil, and then lower the heat, and simmer until tender and a syrup forms. Cool.
Put everything in your blender with the berries, and puree until smooth and creamy.
Add in more lemon juice and sweetener to taste if desired.
Chill in the fridge, and serve topped with more fresh berries and vegan cream.