Vegan Sticky Date Pudding
Sabavana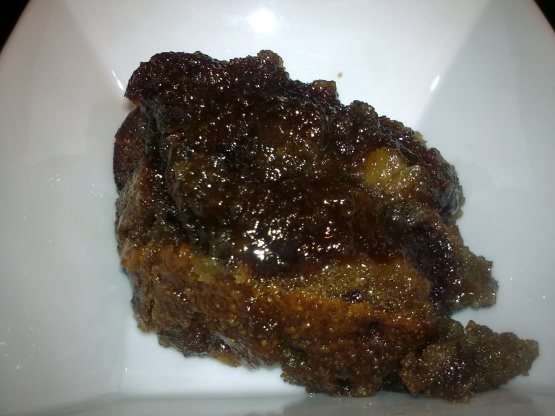 A delicious recipe for sticky date pudding with toffee sauce, that is vegan. From the Vegetarian Cookery School.

This is 'Oh My God' Good! And quick and simple. I can't use vegan butter or marj (I need very low Sat. fat) but I was able to modify it to be an amazing sticky date as good as any other. I drizzled a small amount of olive oil in place of the margarine for some moisture in the cake, and made the sauce to recipe but substituted the margarine for Soy milk. It didn't thicken (naturally) as much as a standard caramel sauce but I got it up to boil then off the heat which made it did thicken enough to become a sticky & luscious sauce. I did pour it over cake to help with any dryness and it was perfect!! Thank you for such a great recipe, I'll be showing this off and noone will ever suspect it's vegan!
Pre-heat the oven to 190°C-Gas5.
Chop the dates in half and put them in a small saucepan and cover with the soya milk and water; simmer until the dates are soft.
Take off the heat and stir in the bicarbonate of soda, which will froth as you add it to the date mixture. Leave to cool.
Beat together the margarine and sugar until pale and creamy.
Add the date mixture and stir.
Mix the spices into the flour. Sieve the flour and fold into the sponge mixture.
Spoon the sponge mixture into a 20cm x 20cm tin.
Bake in the preheated oven for 30 minutes or until cooked and the sponge bounces back when pressed.
To make the sauce: melt the syrup, margarine, sugar and vanilla essence in a small saucepan; simmer for 5 minutes without stirring.
Prick the pudding all over and pour half the hot toffee sauce over the pudding. Serve the rest of the sauce with the pudding.
It freezes well, cut into individual servings and place in the freezer. Defrost in the microwave for 2 minutes.