May S.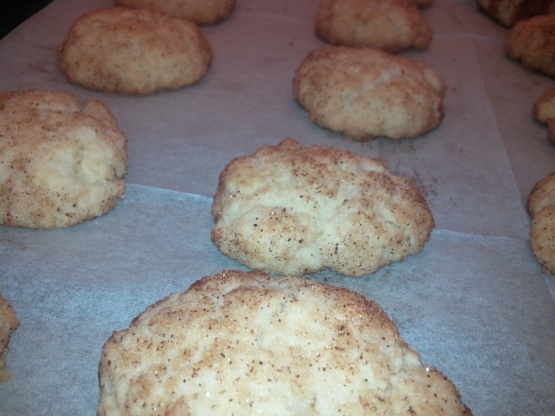 I love these cookies! This recipe was adapted from a recipe on chooseveg.com, but my version has some changes. These cookies are a bit of a staple in our house, and are often requested by my non-veg husband and in-laws. They come together really fast, and are full of Snickerdoodle Cinnamon Sugar deliciousness. The end result is a soft cookie with a slightly crisp edge. Try them, you won't regret it!

Top Review by May S.
I was looking for a snickerdoodle recipe that didn't include butter and such, and found this one. I'm not a vegan and I didn't have the products for the vegan recipe, so I substituted the soy milk to normal milk and the egg-powder to a real egg. Also I used self-rising flour instead of the normal flour and baking soda.<br/>The result was very satisfactory, and the 21 cookies I made were quickly gone - it's been half a day and there is only one left!
Oven @ 375°F.
Mix all dry ingredients in a bowl.
Make a well in center of dry, and add the wet ingredients there.
Mix equal parts cinnamon and white sugar in a small bowl.
Use hands to pull out cookie balls and roll them in cinnamon sugar mix.
Place on cookie sheet & flatten a little with fork or fingers.
Bake for 8-10 minutes.
Allow to cool for a couple minutes on cookie sheet before moving.
I get 12 cookies out of this recipe, but they disappear so fast you might want to double!