Kathy228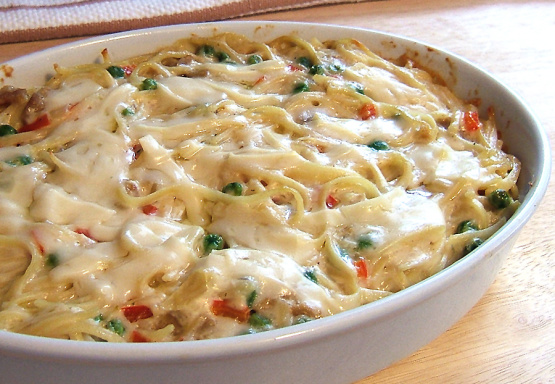 I got this recipe from the Kraft website (originally called Made Over Chicken Tetrazzini), but I decided to veganize it and it turned out to be absolutely wonderful!

A good basic recipe: needs more seasonings and some veggies. Try it with a breadcrumb and Vegan Parmesan cheese topping. I like to add a little about the recipe's history: Tetrazzini is an American dish often made with diced poultry or seafood, mushrooms, and almonds in a butter/cream and parmesan sauce often flavored with wine or sherry and stock vegetables such as onions, celery, and carrots. It is often served hot over spaghetti or some similarly thin pasta, garnished with lemon or parsley, and topped with additional almonds and/or Parmesan cheese.<br/>Tetrazzini was created by Chef Louis Paquet in the early 1900s and is named after the Italian opera star, Luisa Tetrazzini.<br/>There is no universal standard for the dish, so various ingredients can be altered by removing, adding, or by substituting. For example, using a different nut or use of a different cheese or type of cheese. The name is often expanded to describe the specific "meat" used, e.g. Chicken Tetrazzini, Tuna Tetrazzini, or a Seitan Tetrazzini (lacto-ovo vegetarian) or converted to a Vegan Tetrazzini.
Preheat oven to 350°F Cook the pasta until al dente. While pasta is cooking, heat the oil in a pan over medium heat. Add the peppers, mushrooms and seitan. Sauté until the vegetables soften and the seitan begins to brown, then take off the heat.
In a small sauce pan, bring the vegetable stock to a boil. Turn the heat down to a simmer and slowly whisk in the flour. Once combined, add the cream cheese and stir until it is combined and the sauce is thick and creamy. Take off the heat.
Grease a 9x9 baking dish with oil or margarine. Combine the cooked pasta, vegetables, seitan, sauce and 2 tsp of the Parma. Pour the mixture into the baking dish, top with the vegan mozzarella, cover with foil and bake for 25 minutes.
When the 25 minutes are up, remove from the oven, top with the rest of the Parma and let cool for 5-10 minutes. Cut into squares to serve.