Vegan Seitan Gyro W/ Cucumber Sauce
Nikoma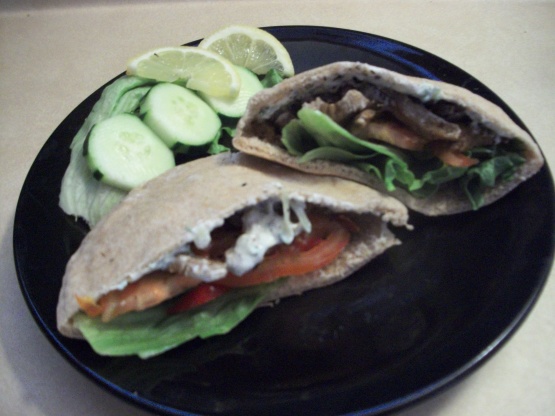 This is such a filling, hearty, flavorful meal that I can never get enough of. It took a while to develop the cucumber sauce recipe, but I think I just about nailed it!

Top Review by Nikoma
I thought these were great! The spice combination sounded a little strange but I love it! I'm not a big fan of vegan yogurt, so I used tofutti sour cream and tweaked the sauce slightly - added more lemon, and a little oregano and onion powder. But that's purely personal taste. This is a total keeper! Thank you!
For the sauce

236.59

ml soy yogurt, unsweetened

1

large cucumber, peeled and grated

14.79

ml lemon juice, fresh

4.92

ml dried dill weed

2.46

ml salt
fresh ground pepper, to taste

4.92

ml turbinado sugar (to taste)

For the seitan

453.59

g seitan, shaved into thin, bite-sized bits

14.79

ml vegetable oil

2

garlic cloves, minced

4.92

ml cumin

9.85

ml oregano

0.25

ml cinnamon

0.25

ml nutmeg

0.25

ml cayenne pepper
salt & freshly ground black pepper

For the sandwich

2

small tomatoes, diced

1

onion, diced

709.77

ml lettuce, shredded

6

piece pita bread, warmed
Peel and grate the cucumber. Put the grated cucumber into a strainer and set in the sink for 10 minutes to drain.
Squeeze the cucumber to remove excess moisture and place into a small bowl. Add the remaining ingredients and stir well to combine. Cover and place in the fridge to let the flavors meld while you cook.
Heat the oil in a pan over medium heat. Add the seitan bits and garlic and stir until the seitan begins to brown. Add all of the seasonings and stir well. Sautee until the seitan is well cooked and fragrant. Turn off the heat.
Assemble the sandwich with the shredded lettuce, diced tomatoes and onions, cooked seitan and cucumber sauce. Eat open-face or fold up and hold on tight!