Vegan Red Potato Salad from Whole Foods Cookbook
brolfes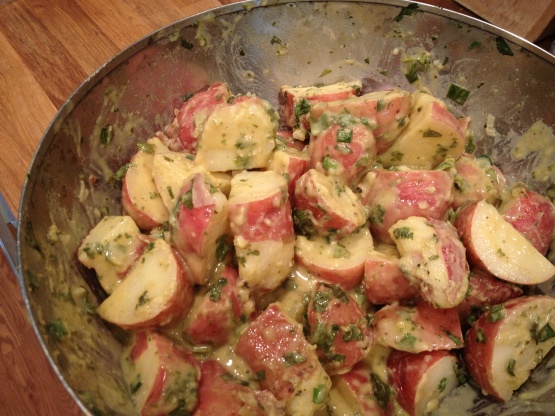 I tried this recipe at a barbeque and was amazed! What is written is what I copied from the host's copy of The Whole Foods Cookbook.

This review is long overdue. My family LOVES this potato salad! I'm digging up the recipe again for a fish fry this weekend. It is so colorful with red, green, and yellow and SO tangy with pineapple juice to sweeten it up. GREAT stuff! I decrease the olive oil just a bit, but overall it's perfect as-is. Thanks so much for posting this wonderful alternative to typical mayo potato salad!
Quarter potatoes and steam for 20-30 minutes, or until tender.
Toss vegetables in a large bowl with salt and pepper and set aside.
While potatoes steam, make salad dressing: in a food processor, add mustard and oil and blend well.
Add juice, vinegar, basil, and spices, processing until smooth.
Once potatoes cool, add them to the bowl of seasoned veggies.
Mix well.
Drizzle in dressing and toss to coat.
Most Excellent!