Vegan Raisin Bran Muffins
Annacia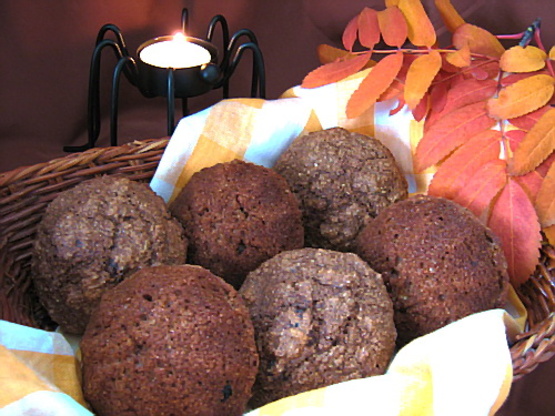 Recipe by Nisi
Bran muffins that are not dry

I have been looking for a good bran muffin recipe that didn't start with a bran breakfast cereal and was delighted to find this. I made 6 muffins and couldn't be happier with the results. They are very light and rise beautifully for a moist and tender muffin. I used Splenda in mine and skipped the molasses to cut the sugars but added about 3/4 tsp of cocoa powder to supply the color that the molasses would have added and lightened up on the salt. Walnuts were added but no flax seed. The muffins were perfectly baked at 15 mins. Thanks for posting, I have this safely saved :D.
Put the raisins in the boiling water to soak. Set aside.
Mix together the bran, flour sugar, baking powder, baking soda, salt and walnuts and flax seeds (if using) in a large bowl.
Mix the egg replacer with the 1/4 cup of soy milk. Using a food processor (especially a mini one) at this point is handy but not necessary. Add the apple sauce and molasses and mix well.
Using a sieve, strain the raisins and reserve the water.
Coat the raisins with some flour.
Pour all the wet ingredients (soy milk, applesauce/molasses mixture and raisin water &c.) into the dry ingredients and mix.
Add the raisins.
Mix the batter together and let stand while the oven heats up.
Line 12 muffin tins with paper muffin cups or spray with non-stick spray.
Heat the oven to 400 F and bake for 15-20. The muffins are ready when a toothpick comes out dry.