Vegan " Meat & Cheese" Spinach Lasagna
Ganesha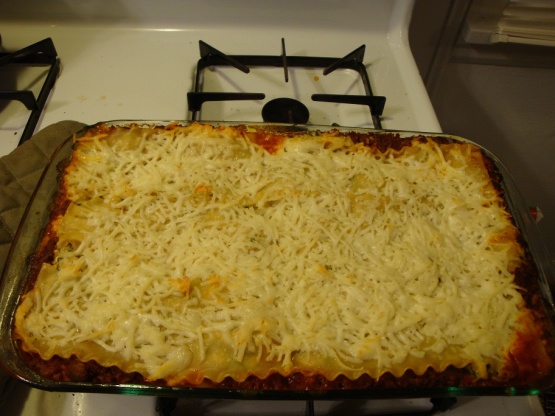 The spinach "ricotta cheese" mixture is made with firm tofu and vegan cream cheese. It tastes rich & the white layer looks beautiful when served. Very easy to prepare and not runny like so many other vegetarian lasagnas seem to be. Very well received by non-vegans.

OMG This so good! The best lasagna I have ever tasted. Our home consist of one vegan, two vegetarians, and one meat eater, and we all absolutely loved this dish. The meat eater just raves about this dish and has no idea it's vegan.....it's pretty funny! The "cheese" mixture is to die for, I'm thinking what else I can use it in.....maybe stuffed manicotti? Try it, I guarantee you will not be disappointed.
In olive oil, saute chopped onions and garlic, Stir in mushrooms, basil and parsley and saute for a few more minutes.
In a bowl, combine saute pan contents with well-squeezed/drained tofu and vegan cream cheese.
Add well-drained spinach to saute pan and heat briefly to remove any remaining moisture in spinach, Incorporate into "cheese" mixture, salt and pepper liberally.
Cover bowl and let sit in fridge for at least 30 minute,preferably over night-The longer it sits together, the better the flavors meld, (This is also nice because you get 1/2 the prep done the night before and can throw your lasagna together in minutes the next day).
Heat "ground beef" crumbles in pan with some of the tomato sauce, about 1/2 to 1c.
Cook lasagna noodles according to package (usually 12 minutes), Add oil to salted boiling water to keep noodles from sticking to one another.
Spray 9x13 dish w/ non-stick, Layer 3 noodles, layer half remaining tomato sauce, layer half of "cheese" mixture, 2nd layer noodles, layer all "ground beef" mixture, layer second half of "cheese" mixture, 3rd layer noodles covered with remaining tomato sauce. Sprinkle top liberally with vegan parmesan cheese.
Cover with foil and bake at 400°F for 30 minutes, and uncovered for another 10 minutes.
Let sit for 5+ minutes before serving.