Annacia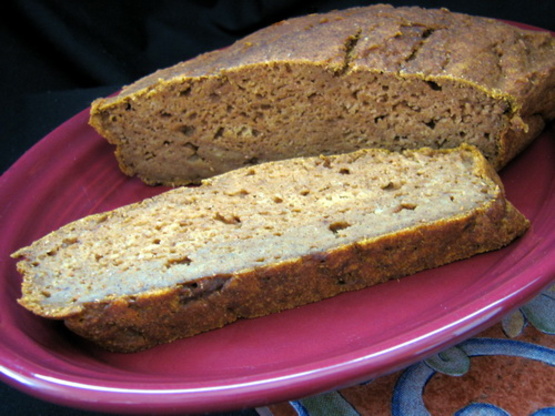 Dairy free and delicious. I took my mother's pumpkin bread recipe and replaced the eggs. When I initially entered this recipe I made an error by including two cans of pumpkin instead of one. This will explain the results of the first review.

The flavor of this bread is marvelous, it tastes like pumpkin pie. Sadly however the texture was another matter. Made as directed with the exception of replacing half the sugar with Splenda (and making one loaf) it turned out far to damp and exceedingly heavy. It might benefit from more leavening and possibly less oil. I used an 8x4 glass pan.
Preheat oven to 350 degrees F.
Grind the flax seeds then mix with the water until well blended to create the egg-replacer.
In a large bowl mix: sugar, pumpkin, water, oil and applesauce.
In a separate bowl sift together the dry ingredients. Fold into pumpkin mixture slowly.
Bake for 1 hour.