gailanng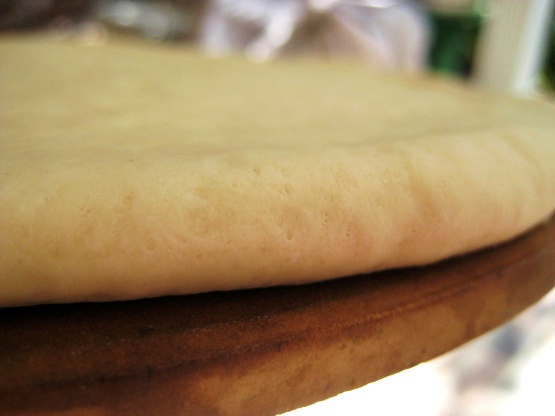 This is an updated version of my adopted recipe. The review it had stated the pizza dough did not cook thru after toppings were added. This recipe and directions will help that problem.

This makes a very nice thin, crispy crust. I had never pre-baked a pizza crust before and I think that helps make it crispier, which we like. Next time I will prick it with a fork a few times first, since mine puffed up with air pockets while baking, but while it was cooling, they flattened out. I am also going to try it with whole-wheat flour and some dried herbs mixed in. I was a bit worried about the yeast amount. I used 2 1/2 TEASPOONS, not ounces, and it worked fine. Made for tag game at kittencalskitchen.com
Preheat oven to 400 degrees F.
In large bowl, combine flour, yeast, and salt. Add warm water and olive oil, knead about 5 minutes or until mixture is well combined and forms a ball. Let dough sit for 10 minutes in a warm place.
Roll out dough and fit to oiled cookie sheet or pizza pan. Place in oven and bake for approximately 10 minutes or until very slightly browned.
Remove from oven and let cool. Add pizza toppings of your choice. Return pizza to oven and bake approximately 10-20 minutes or until cheese is melted. Cool, slice, and serve.