mliss29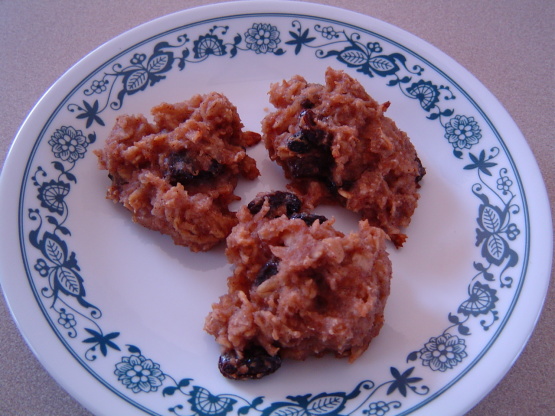 In The Complete Guide and Cookbook for Raising Your Child as a Vegetarian by Michael & Nina Shandler, these are called "Eggless Oatmeal Cookies." I thought "vegan" would sound more appetizing as well as be about what they are rather than what they aren't. ;) I made these today and used apple-raspberry juice and King Arthur's White Whole Wheat Flour for all the flours, because that's what I had on hand. They remain fairly soft and I think it's best to store them in the refrigerator if you're not going to gobble them up immediately.

This is a very strange cookie. I decided to try it out because of how unique the process was with toasting then boiling the oats in juice. The sesame oil adds a bit of a surprise, which is nice against the apple flavor. The end result is a subtly sweet, dense, and rubbery cookie.
Preheat oven to 375°F.
In a dry, heated skillet, toast oats until lightly browned.
Add to boiling apple juice and let sit for 5 minutes.
Stir in the rest of the ingredients and drop by spoonfuls onto a well-oiled baking sheet.
Bake 15 minutes until golden-brown.