gailanng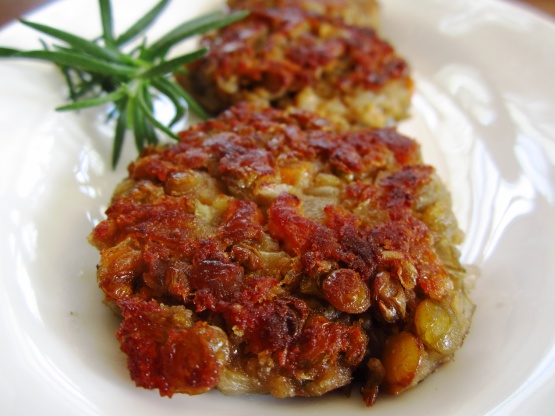 Got the recipe from theveggietable.com and wanted to post so I had it to hand and for others to share.

This is my go-to when I make burgers at home. Since I am a vegetarian, I add an egg to help them stay together, but honestly they stick together pretty well anyway. You can also add about a tablespoon of egg replacer with water if you prefer to keep them vegan.

The last time I made these, I also toasted 1/2 cup of quinoa in a frying pan before adding it to cook with the lentils. The nutrition boost and nutty flavor are great!

I use a 1/2 cup measure to form each patty, and get almost exactly 8 burgers each time. We eat 2 and freeze six for easy weeknights later on. I also made them for a new mom and dad who are vegan, and froze them so they could make meals easily during their son's first weeks. They freeze really well, and mom and dad said they were easy to throw in the pan from frozen on a low heat, and they tasted great.

Enjoy! Thanks for the great recipe!
Boil lentils in the water with the salt for around 45 minutes. Lentils will be soft and most of the water will be gone.
Fry the onions and carrot in the oil until soft, it will take about 5 minutes.
In a bowl mix the cooked ingredients with the pepper, soy sauce, oats and bread cumbs.
While still warm form the mixture into patties, it will make 8-10 burgers.
Burgers can then be shallow fried for 1-2 minutes on each side or baked at 200C for 15 minutes.