Ken C.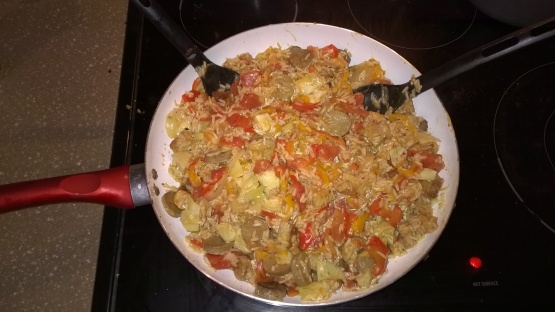 This is from a great new Vegan cookbook that my sister got me. I always looked at Vegan food as earthy and grose, but this really changed my mind.

I printed this up for my boyfriend and he ended up making it. So the recipe was made as-is and it turned out fantastic! We like spicy foods so this didn't seem that hot to us and had a nice flavor! This is going ot be our new jambalaya recipe that we use! Thanks!
Cube and marinate tempeh in broth, olive oil, cajun seasonings, cayenne, and Tabasco overnight.
Brown tempeh and tempeh sausage in pan with additional olive oil.
Remove from heat.
Add artichoke hearts.
In large pot, put 2 T.
olive oil, 1 T.
cajun seasonings, onion, peppers, and garlic.
Saute until onion is clear.
Add 1 cup of rice and stir over high heat until rice is translucent.
Add 2 cups of water and juice from can of Rotel.
Stir and then cover.
reduce heat to medium-low and cook for 25 minutes.
Once rice is cooked-- remove from heat.
Stir in tempeh mixture, can of Rotel, and salt and pepper to taste.