Vegan Hazelnut Cocoa Cookies
MsBindy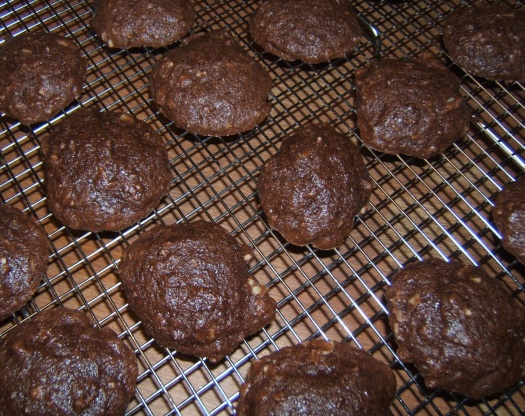 this recipe is easy, cheap and doesn't require special tools. it's perfect for the person who doesn't like their sweets TOO sweet. these cookies are on the mild side. i also like to make small batches of cookies, so this recipe is great for just a few friends.

Your description is accurate. These are not overly sweet, and have a mild chocolate taste. They are a cakey kind of cookie, not chewy or fudgy. I did not have hazlenuts, so used almonds. And directions do not say how to prepare the nuts. I assumed they were to be chopped, so did so. I baked at 335F for 15 minutes, and they came out perfectly.
mix ground flax seeds with water and let stand until it gets thick (approx 3 minutes)-- this is a vegan substitute for eggs and works better than any sub i've ever used.
mix dry ingredients.
mix wet ingredients.
mix all ingredients together.
drop by tablespoon onto greased cookie sheet, 2 inches apart.
cook at approx 325-350 for 10-15 minutes (i bake in a toaster oven@ 300 for 10 min).
cool on wire rack if you have one.
enjoy animal friendly cookies!
great with soy-coffee ice cream.