Vegan Cream of Coriander (Cilantro) Soup
KristinV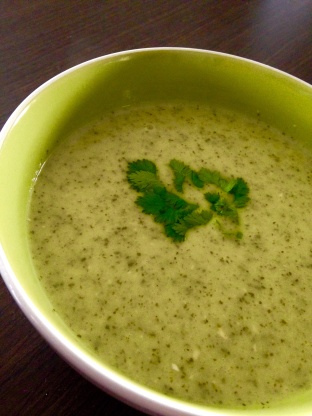 Since I can't grow it to save my life and the supermarket seems to only sell it in giant bunches I constantly find myself left with a big bunch of coriander (cilantro) hanging out in my fridge. I hate, hate, hate wasting food so I had to come up with a way to use it up before it died a slow and messy death in the back of my fridge!
Place cilantro leaves in a blender with 1 cup of the vegetable stock and blend to form a puree. Set aside.
Melt the vegan butter in a large saucepan, add the onion and garlic, and sauté until soft but not brown. Add the flour and stir to make a roux. Gradually add the remaining broth, stirring with a whisk after each addition.
Add the cilantro puree, stirring to blend thoroughly. Cover and simmer 15 to 20 minutes.
Stir in the coconut cream. Using either an immersion blender or in batches in a blender process until smooth.