Vegan Cookie Crumb Crust (Chocolate or Gingersnap)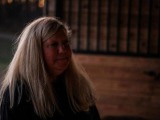 This is a nice pie crust for vegan pies. Easy to put together, with ingredients that are easily accessed. Be careful using *Oreo's--in different factories ingredients can contain diary products.
Directions
Preheat oven, 350 degrees.
Process cookies in food processor until crumbed. (Can use blender or rolling pin filled with cookies in Ziploc bag.).
Mix crumbs, sugar, vanilla, and margarine.
If desired, reserve 2 tablespoons of crumb mixture for garnish.
Press mixture firmly and evenly against bottom and side of 9-inch pie pan.
Bake 10 minutes. Cool.
For Vegan option use a Vegan cookie.