Vegan Coconut-Citrus Julius
Kathy228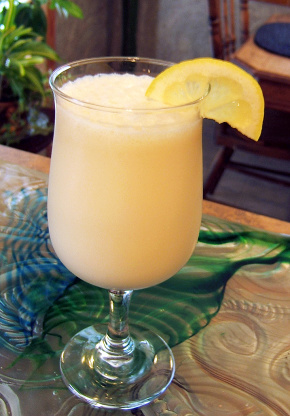 This is a non-dairy, not too sweet variation. If you are not vegan, honey can be added instead of the agave syrup. Sometimes I use orange-pineapple juice. Ice cubes are optional.

Luscious! This recipe uses ingredients I always have in the house, well, except for agave syrup, so I used honey instead. I don't even know what agave syrup tastes like. We always have soymilk, and I usually use it for cooking, so it was a treat to have it in a drink. We liked the orange version so much I made up another batch with some frozen lemon-mint concentrate, and that one was even better. Thanks for a delicious treat!
Blend all ingredients in a blender.
Taste to adjust sweetness.
If desired, add 6 ice cubes, one at a time.
Serve in a tall glass with a lemon slice.