Vegan Cinnamon Coffee Cake
Blake V.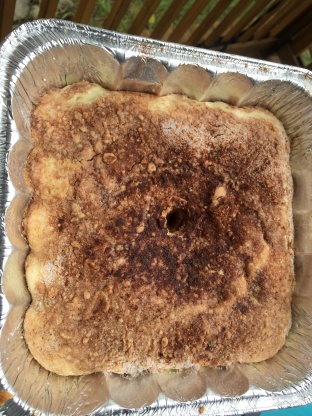 This is a recipe I modified from Martha Stewart's website. It's very tasty. Can be made in a round cake or 9x9" brownie pan or I use a 9 serving mini loaf pan to make little individual cakes. On the sugar, make sure what you use is vegan. I use organic evaporated cane juice sugar. Regular sugar is often processed with animal derivatives.
Preheat oven to 350 degrees and lightly grease a round cake pan, 9x9" brownie pan or mini loaf pan.
Mix together the flour, 3/4 cup sugar, baking powder and salt.
Cut the margarine into small chunks and add to the mix. Mix for a couple of minutes if using a mixer. This is the "dry ingredient mix".
Remove 1/2 cup of the dry ingredient mix and put in a separate bowl. Add the cinnamon and 2 tablespoons of sugar and mix together well. This is the "topping".
To the remaining dry ingredient mix, add the soy yogurt and milk until the consistency is smooth. Put into a round cake pan, 9x9 brownie pan, or spread evenly in a mini loaf pan (I use an ice cream scoop for even serving sizes).
Spread the topping evenly onto the batter. Melt the 2 tablespoons of margarine and drizzle over the top.
Bake at 350 for 35 minutes, or until a toothpick entered into the center of the coffee cake comes out clean.