Vegan Chocolate Chip Cookies
andrew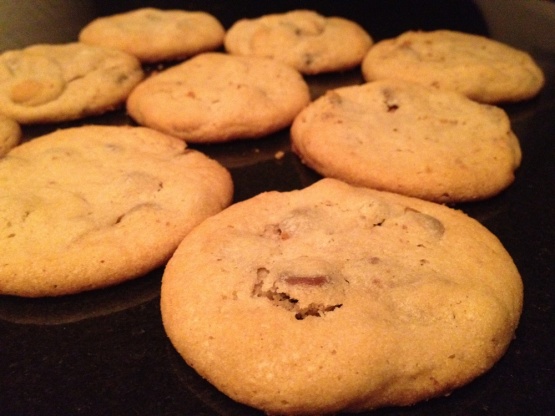 Oh man these are so good! If I could I would give this 10 stars. This is my new chocolate chip cookie recipe!!! This recipe is also SO easy to make. I did modify it somewhat but not entirely on purpose. I felt there were too many chips so I wanted to make a triple instead of a double batch. When I added the sugar mix the chips all melted (oops!) so I threw in a handful of solid chips. I ended up with chocolate chocolate chip cookies. I took them to work people were literally shoving them in their pockets. They were all shocked when I told them they were vegan. The dough was a touch dry, but I just squished them like you would make meatballs, easy peasy. They took exactly 10 minutes to bake, I didn't find them greasy at all. GREAT recipe!!!!!!
Melt margarine in saucepan.
Add both sugars.
Mix flour, baking soda, and salt.
Add egg replacer and vanilla to butter mixture.
Add butter mixture to flour mixture.
Add chocolate and nuts if desired.
Let cool in fridge for 1 hour.
Bake on greased cookie sheet for 10 minutes at 375.