Vegan Caesar Salad Dressing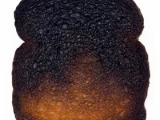 Nutritional yeast is a godsend for folks who are vegan or those dairy-intolerant. I think this recipe gives traditional Caesar salad dressings a run for their money. Nutritional yeast is available in bulk in well-stocked grocery stores. I forgot the recipe source!?
Directions
In a small bowl, combine the mustard, nutritional yeast, almonds, and garlic. Make a paste.
*Whisk in the water, lemon juice, soy sauce, olive oil and white pepper.
*I prefer to blend the ingredients together in a mini-blender or using a hand-held immersion blender for a creamier consistency.
Refrigerate until ready to serve. Adjust seasonings if necessary.