Vegan Buffalo "chicken" Soup
Prose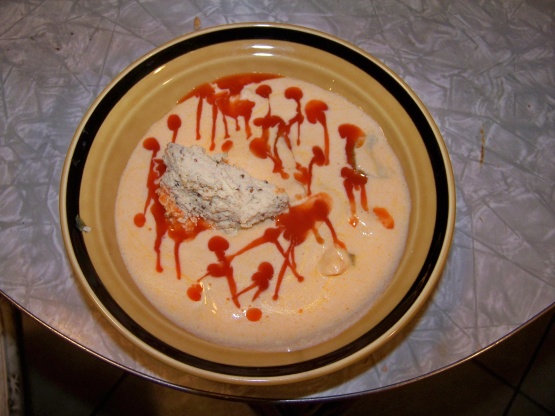 I know it sounds weird, but it's absolutely delicious, and quite comforting on a fall or winter day. I had made a Buffalo Chicken Soup a long time ago, and started craving that recently, so I decided to "veganize" it. My husband said it tasted really close to the "real" thing. I'm proud of myself.

Oh my gosh - so good!! I think my husband was expecting to dislike this since there wasn't any dairy in it, but we both loved it and it totally satisfied my buffalo craving! I did make some changes though - in addition to the 3 stalks celery, I also added one chopped carrot and one peeled/diced medium baking potato. I sautéed the carrot and celery together for awhile before adding the potato for a little bit with some water to prevent sticking. I made the soup base with a little extra nutritional yeast, then simmered for about 30 minutes. I scooped out the veggies and put back in the vitamix to puree. Then reheated everything with the sour cream. I also left out the vegan chicken altogether because I couldn't find the brand I wanted - didn't miss it but I'm going to try with chicken next time. So good though! Thank you!
Melt margarine in a large pot.
Sautee celery until slightly tender.
Meanwhile, mix bouillon cubes with hot water. Pour into food processor or blender. Add tofu and nutritional yeast. Puree until smooth. If you use a blender or a small food processor, you may have to do this in two batches. Pour mixture into pot.
Add vegetarian chicken cubes, hot sauce, and garlic powder. Heat over medium, until it starts to bubble. Reduce heat to low, and simmer for 20 minutes or so, stirring frequently.
Stir in sour cream substitute. Heat until warmed through. Do not boil.
Serve with extra hot sauce, if desired, soy bleu cheese, and crackers. It makes a lovely meal with a side salad and a baked potato.