Vegan Broccoli & Cauliflower Casserole
Sarah B.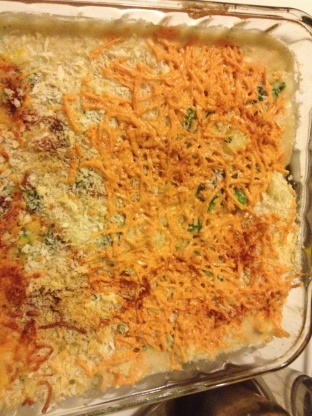 A delicious cheesy blend of cauliflower and broccoli, veganized, with some crunch and an interesting spice addition.

I gave it a try with a few alterations, I can't remember exactly as it was last week, I think onions garlic and green peppers and it was amazing
Preheat oven to 400°F.
Cook broccoli and cauliflower in boiling water for 3 minutes.
Drain and set aside.
Blend together milk, oil, flour, nutritional yeast flakes, salt, and nutmeg until smooth.
Cook, stirring well, over medium heat in a saucepan until thickened.
Turn off heat.
Add broccoli and cauliflower to saucepan and stir until combined.
Pour mixture into a greased 8x8-inch casserole dish.
Sprinkle panko bread crumbs, cheese, paprika, and then parsley over the top.
Cook for 10 minutes.
Enjoy!