Vegan Breakfast Couscous With Fresh Fruit
Debbwl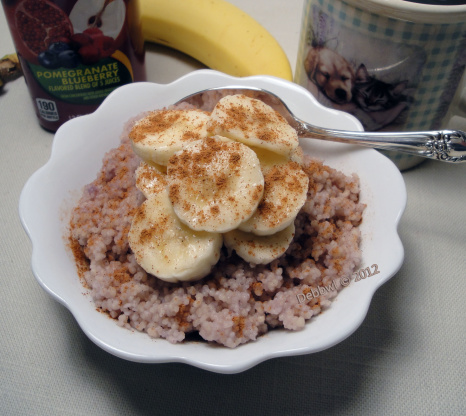 From the fabulous cookbook La Dolce Vegan. Feel free to substitute your favorite fresh fruit in season: peaches, berries, etc.; even dried fruit, etc. Couscous is ideal for breakfast as it is not only nutritious but cooks very quickly. Living the Dolce Vegan!

Top Review by Debbwl
Tremendous complexity of flavors that are hidden in what on the surface looks like just another healthy breakfast! I made using vanilla soymilk, blueberry/pomegranate juice and a little cinnamon/cardamom mixed together. We loved that is was just sweet enough but not too sweet and supper healthy, but mostly we loved all the layers of flavors. Thanks so very much for the post.
3⁄4 cup soymilk (Read *NOTE) or 3⁄4 cup rice milk (Read *NOTE)
1⁄4 cup unsweetened apple juice or 1⁄4 cup unsweetened cranberry juice or 1⁄4 cup unsweetened white grape juice or 1⁄4 cup unsweetened orange juice
1⁄2 cup whole wheat couscous
1⁄2 banana, peeled and sliced
salt, to taste (optional)
*NOTE: Regular cow's milk can be substituted for the soy milk.
In a small pot on high heat, bring the milk substitute and juice of choice just to a boil.
Reduce heat and stir in the couscous with a fork. Cover and simmer for 2-3 minutes.
Turn off heat, leave pan on element, and allow to stand a few minutes.
If desired, season with salt. Serve with fresh fruit and a sprinkle of cinnamon or other favorite spice.
Yield: 1 medium or 2 small servings.