Lorelau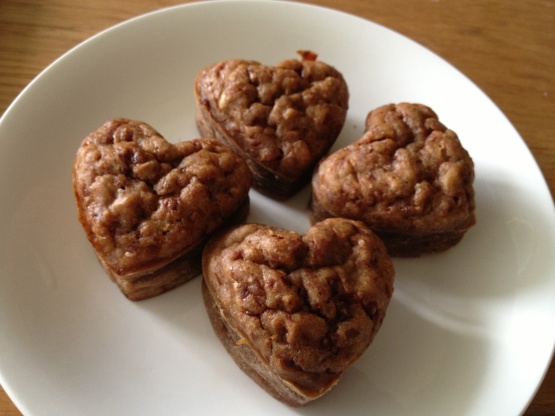 These flavorful muffins are a healthy and delicious family favorite! A variation on this recipe is to add 1/2 cup semi-sweet chocolate chips before baking.

These were fantastic! I altered the recipe a bit, reducing the flour to 2 cups (all white, didn't have whole wheat on hand) and adding some quick-cook oatmeal and flaxseed to equal approx a 1/2 cup, and added about 1.5 cups of frozen blueberries. I also increased the baking soda and powder a bit, so about 1.5 tsp of each. It ended up making 24 muffins. They came out very moist, not dry AT ALL, and pretty dense, which I don't mind. They're delicious and filling. Thank you!
Preheat oven to 350°F
Grease or place cups in tin for 12 muffins.
Mash bananas in a bowl.
Add oil, sugar or maple syrup, salt, cinnamon and cardamon and mix.
Add flours, baking powder and baking soda and mix.
Spoon into muffin tins and bake for 20-25 minutes until muffins are done and slightly browned on top.