jpie117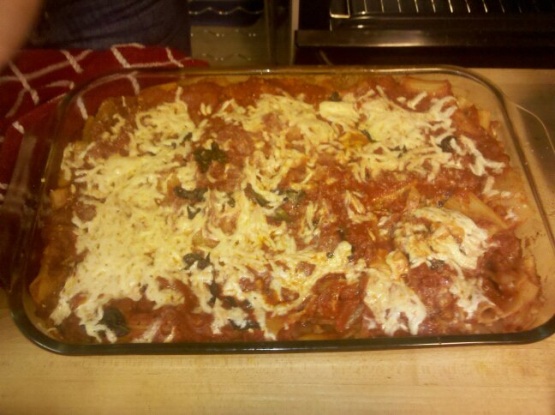 I just kind of threw this together the other night and it turned out to be one of the best pasta dishes I've ever had. And its easy! (Also, to the chef who said soy mozzarella isn't vegan, buy the Follow Your Heart brand, it is. There are several vegan cheeses on the market, you just have to look for them.)

I am not crazy about the vegetarian sausge so I used the Boca meat crumbles that you can find in the freezer section at the grocery story instead. Easy to make and very tasty. My one year old and five year old ate everything on their plates. I used Daiya cheese which is vegan; the reviewer who stated otherwise is misinformed. I will likely make this at some point in the future for a larger get together; I think non vegans would enjoy it as well.
Put a pot of water on to boil.
Heat oil in a large pan over medium heat. Put the sausage in the pan and break down into small bite-sized pieces with the edge of a spoon. Sauté until brown.
As the sausage is browning, salt the boiling water and add the ziti.
Add the garlic and onions to the pan of sausage and cook together until onions are softened. By this time, the pasta should be done.
Preheat the oven to 425°F.
Drain the pasta, return to the pot, add the sausage and onion mixture, 1 1/2 jars of sauce, 1/2 of the grated cheese and the fresh basil and oregano. Toss well to combine and pour into a 9x13 inch baking dish. Even the mixture out in the pan, cover with the rest of the sauce, scatter the torn basil over the sauce and sprinkle the rest of the cheese on top.
Cover the dish with foil and bake for 40 minutes, or until everything is bubbling and the cheese is melted. Remove and let cool for 5-10 minutes before serving.