Qzxyntop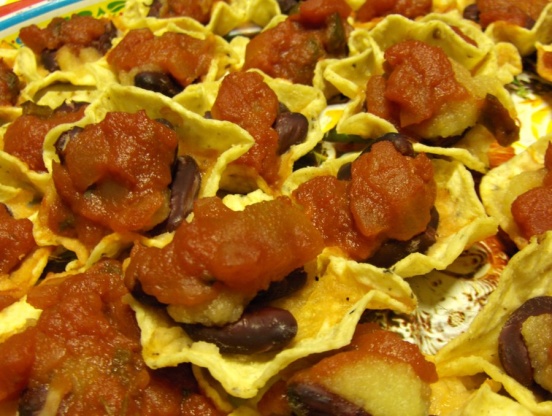 I know it sounds weird, but bear with me! The applesauce sweetens it, but a flavorful salsa, salty chips, and earthy beans help to balance it out. This recipe is vegan and easy to prepare, best enjoyed hot. The ingredients are estimates, since I make this by sight or to taste, but it's easily doubled or tripled. Feel free to vary the recipe, for example using black beans instead of kidney beans.
Preheat the oven to 350°F.
Lay out the tortilla chips on an ungreased cookie sheet.
Fill each chip with 3-4 kidney beans, 1-3 teaspoons applesauce, and 1-3 teaspoons salsa.
Warm for 10 minutes in the oven, and enjoy while hot.