Vegan Apple Whole Wheat Pancakes
Meliska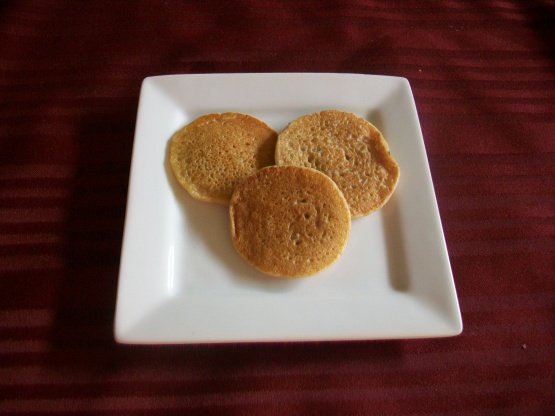 I play around with different pancakes all the time, and I love how this particular combo turned out. I really think the coconut oil is a big part of what makes the texture, so if you can use it I highly recommend you do! If not, a substitution would surely work, but won't be the same. For milk, you can easily use soy, hemp, hazelnut, oat, rice, or whatever you prefer. The vital wheat gluten can be replaced with any high protein flour for similar results. Soy flour would be a good option. If you don't have it on hand, regular flour will do. I recommend serving with walnuts or pecans and if you use syrup, that you go with just the tiniest bit of the real stuff - these are sweet on their own thanks to the applesauce.

This was the worst vegan pancake recipe I've tried, and I've tried a few. The pancakes were a little too salty and turned out gummy. No matter how long I cooked them they seemed undercooked. I tried converting them to make waffles, but they didn't work that way either, just stuck terribly. They could also use a little bit of sweetener besides the applesauce (1-2 TB. of brown sugar or maple syrup). I would steer clear of this recipe, since there are so many others that are better.
Combine dry ingredients.
Add wet ingredients and mix well. If your milk is cold, mix your coconut oil in with the dry ingredients first so it doesn't clump up on you.
You can cook them just like this, or let soak overnight to reduce the phytic acid content of the flour.