Debbwl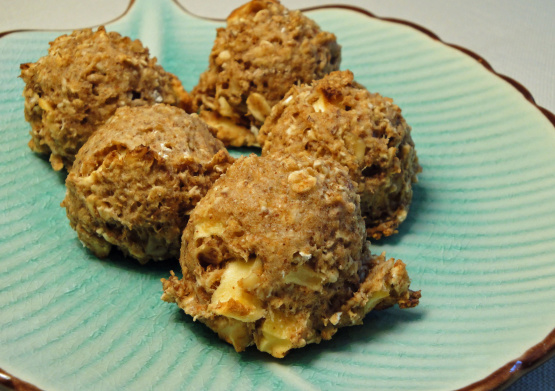 This is my healthier version of a cookie that is sold at one of our local bakeries. These are not your normal cookie as they stay in nice little soft mounds packed with little bits of dried apples and nuts without being overly sweet. **This is an original recipe and the amount of apple juice is always between 1/3 and 1/2 cup so you will have to use your baking skills when making these.

These were made especially for a couple of vegan friends of ours, & they got the most of 'em (minus the 10 that I kept here for the 2 of us!) & they were very pleased with 'em, too, as were we! I enjoyed making them, although I kept thinking they'd probably be so-so when it came to the taste, but that wasn't the case at all! These cookies are a real treat, & I thank you for sharing the recipe! [Made & reviewed in New Kids on the Block recipe tag]
pre heat oven to 350°F.
In large bowl stir together flour, oats, brown sugar, baking powder, baking soda, salt, cinnamon, and flaxseed meal.
Add chopped dried apple and walnuts to flour mixture.
In small bowl whisk together applesauce, vanilla, oil and 1/3 cup apple juice.
Stir liquid into dry ingredients without over working **over stiring will make them though** adding a little more apple juice if need be.
Drop a cookie scooper full or generous tablespoon full of dough onto Silpat(can use paper-lined or greased baking sheet But silpat works best), these cookies won't spread much so you can get a few more per baking sheet.
Bake in the preheated oven at 350 F for 12-15 minutes or until toothpick inserted in the center comes out clean. These cookies are more cake-like, so they will not get crisp and will only color slightly.
Allow to cool on the baking sheet for 5 minutes and then remove to wire racks to cool completely.