Vegan Apple-Bottomed Gingerbread Muffins
BB2011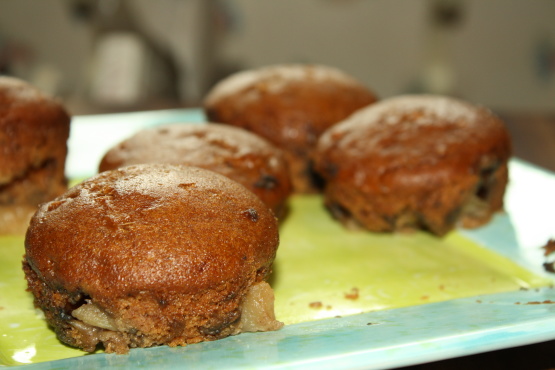 This is a recipe I invented when I was craving gingerbread - and it came out great! My whole family enjoyed them and they make a good breakfast, teatime, or evening snack. The muffins are sweet and delicious.

Out Gravenstein apples are ripe and we've already picked over 70 lbs!

I was looking for something good to make with the fresh apples.

This recipe was fabulous. And the muffins came out superb. I did not change any part of the recipe--including cooking time. Everything came out just as described.

I know that we'll make these again and again.
Preheat oven to 350°F.
TO MAKE APPLE BOTTOMS: Peel, core, and slice apples into 1-inch chunks.
Mix apple chunks, tablespoon melted margarine, and 2 tablespoons brown sugar in a bowl until apples are lightly coated.
Place a spoonful of apple mixture in the bottoms of a lightly greased muffin pan and set aside.
TO MAKE GINGERBREAD BATTER: Combine flour, brown sugar, baking soda, and spices.
Mix egg replacer, melted margarine, molasses, and hot water in a separate bowl, then add this mixture to the dry mixture.
Stir just until thoroughly combined and spoon batter over apples.
Bake for 25 minutes. I recommend eating these with a fork as the apples don't always stay together, but I promise they're delicious!