Vegan African Sweet Potato Stew
Prep 15 mins
Cook 50 mins
A hearty, delicious African stew with peanuts, coconut milk, sweet potatoes and lightly spicy, earthy flavor. Perfect for a cold winter's night. 100% vegan - dairy, meat and egg free. Low sodium. Great for kids.
Directions
Prepare in advance your sweet potatoes by peeling them and chopping them into chunks. Dice your carrots, celery and onion. Drain and quarter your tomatoes from the can.
Heat 2 tablespoons of peanut oil in a large Dutch oven or stockpot over medium-high heat. Add curry powder and cook, stirring constantly for 1 minute. Add onions, carrots and celery and cook, stirring occasionally, for 2 minutes. Add garlic and cook for 1 more minute. Stir in sweet potatoes, broth and tomatoes, and bring soup to a boil. Simmer, covered, 20 to 30 minutes.
Season with 1/2 teaspoon salt and 1/4 teaspoon black pepper, peanuts, cayenne, peanut butter, and coconut milk to the soup, stirring to combine. Bring mixture to a simmer and cook for 20 minutes.
Serve hot; makes 6 very hearty servings.
Most Helpful
Wow, a sauce with peanut butter and coconut milk. What's not to like? My husband really was raving about this recipe. I plan to add cauliflower and peas next time too. Loved it, thank you.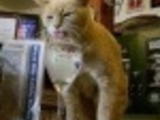 made this twice now and it is delicious. I do add more peanuts and a little coco lopez for a hint more coconut. I have signed up for experimental surgery to add four more arms to complete prep in 15 minutes. ~:-o
Everyone who has had this stew loves it and wants more or wants the recipe. I used almond butter and added all the spices earlier on but otherwise I left it alone. This is a keeper that we will be eating for years to come.