PanNan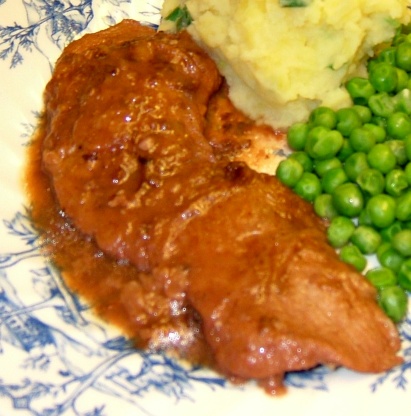 From fridge to table, a really quick mid-week recipe with only a few ingredients that are readily on hand: veal cooked in an orange and wine sauce. Adapted from 'Colour Me Healthy' by Rita Erlich and Dr Alice Murkies and an earlier recipe of my own. When I came across this recipe in 'Colour Me Healthy', I dug out a recipe I'd had in my very first hand-written recipe book from the early seventies when so many of the influences on Australian cuisine were only just beginning to make a ripple and so many of our recipes were still basically derived from English recipes. Although I suffered English school meals as a child, there really is a lot more to English - and earlier Australian - cuisine than chops and three veg! I am, therefore, posting this as both an English and an Australian recipe.

Top Review by PanNan
This is indeed a quick and easy recipe for veal, and it was nicely cooked and tender. We weren't wild about the flavor of the wine/orange juice combination in the sauce, but that is just a matter of personal taste. I cut them, but then forgot to use the fresh chives when serving, so they're missing in the picture, too. Thanks for recommending your recipe when I requested something with veal. It made a very nice mail.
Preheat the oven to a moderate temperature.
Squeeze the orange juice, and set aside.
Grate a teaspoon of orange rind, and set aside.
Dip the slices of veal in flour, then sauté until lightly browned on both sides.
Transfer the veal to an ovenproof casserole dish, and set aside.
Pour the orange juice and wine into the still-hot sauté pan.
Let the orange juice and wine bubble for one minute.
Add the soy sauce and orange zest, then pour the orange/wine sauce over the veal.
Cover with foil and cook for 30 minutes.
Remove the foil, add some freshly chopped chives and serve.