ImPat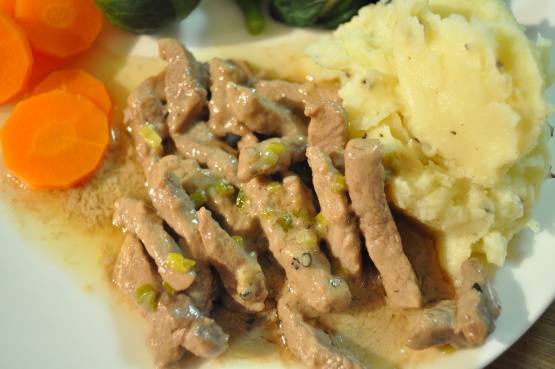 This recipe came from "Classic International Recipes". It states that it derives from Switzerland, although it is enjoyed throughout Western Europe. Typically this is served with Fried Potato Cake or Mashed Potatoes. This calls for veal round steak, but I can usually only find the more expensive veal scallopine here.

Top Review by ImPat
A quick easy meal to put together. The DH thought it tasted fatty though as he saw the meat he knew it was very lean and what little fat there was I had cut off. I did use a new cream product (Philadelpha 60% reduced fat cream for cooking) and as I was really worried about the butter burning I used 1 1/2 tablespoons of butter and 1/2 tablespoon of olive oil and for dietary/allergy reasons I had to use spring onion/scallions (green and white part) for the shallots. Served with mash potato and steamed vegetables. Would also like to try this with chicken and serving over pasta. Thank you breezermom, made for Potluck Tag.
Partially freeze the veal; slice very thinly across the grain into bite-size strips. In a mixing bowl comgine the lemon juice or brandy, salt and pepper; add the veal strips and toss to coat evenly. Let stand 10 minutes.
In a large skillet, cook the veal, half at a time in 2 tbsp hot butter or margarine for 2 minutes at medium heat. Transfer to a heated serving platter; keep warm. Repeat with the rest of the veal.
For the sauce, in the same skillet cook shallots in the 1 tbsp hot butter until tender but not brown. Add the wine and bring to boiling, stirring constantly; cook for 3 minutes or until it is reduced to 1/4 cup mixture.
Gradually add the whipping cream, stirring constantly. Stir in the veal strips; heat through but do not boil. Serve immediately with the Fried Potato Cake or mashed potatoes.