Veal Scaloppine With Wild Mushrooms
Sageca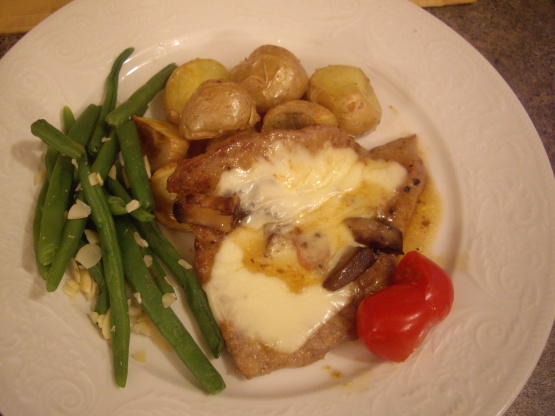 This is tender and so good. A very easy recipe to serve but tastes like a fine dining experience. Try something exotic for your mushrooms for a different taste sensation. To make this recipe in the morning: you refrigerate it and at serving time reheat in the oven; then add the cheese. Enjoy!
Preheat oven 350*.
Sprinkle veal with your favourite meat seasonning.; ex Emeril or Prud'homme.
In large skillet heat oil.
Dredge veal in flour and sauté in oil 1-2 minutes per side.
Place veal in in baking pan.
In skillet add mushrooms,garlic,shallot and ham; cook 4 minutes.
Add sherry and chicken broth; boil 4-5 minutes until reduced by half.
Spoon mushroom mixture on top of veal slices.
Cover each slice with cheese and bake for 10 minutes until cheese melts.
Serve with roasted potatoes and a green beans.