Veal Scaloppine With Mushrooms
Prep 10 mins
Cook 20 mins
Excellent recipe that our whole family appreciates.
Directions
Cut veal into serving size pieces.
Mix flour and salt together in a bag and shake with the veal to coat.
Saute in butter.
Remove veal and set aside.
Saute garlic and mushrooms; add lemon juice, chicken broth and wine. Add veal, cover and simmer over medium heat for 20 minutes.
Serve with rice or pasta.
Most Helpful
This was super easy and delicious! I used olive oil instead of the butter and used half of a medium size onion coarsly chopped, and sprinkled a bit of the left over flour mixture (a couple of pinches) over it and let it simmer for a minute or so to thicken it ever so slightly, then added the meat and let it simmer for about 10 minutes (uncovered). I served it over rice. Thanks for the recipe!

This was VERY good! The meat wasn't as tender as I had hoped, so I gave it just 4 Stars. The sauce, however, was EXCELLENT!!! I added a little Garlic Powder. Will most definately make this again! THANKS!!!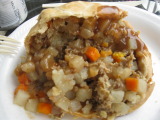 We enjoyed this tonight for dinner. The lemon taste came through stronger than I liked but that could be lemons I used. I had to use jarred garlic (1 teaspoon) and the taste came through which we didn't mind, the smell was fantastic. I used 650 grams of veal pounded out (just under the 1 1/2 lbs) and 60 grams butter with a tablespoon of olive oil. One we will try again, a easy week day meal. We served it with rissona pasta and steamed vegetables. Thank you Chef at Large.