Veal or Chicken Scaloppine With Saffron Cream Sauce
CookSki3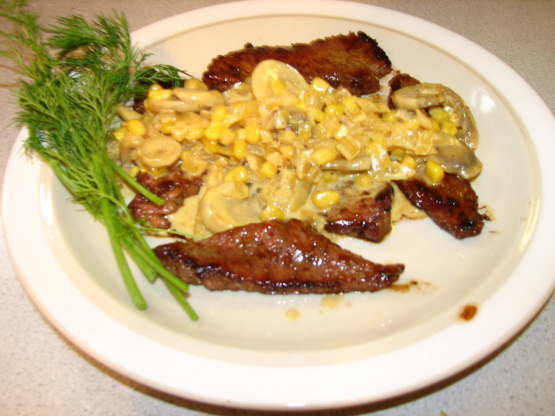 Courtesy of Giada on Everyday Italian. I haven't tried it but it was reviewed well with notes that the saffron makes the dish. I will use chicken breasts, sliced in half across the thickness and then pounded to form the scaloppini

My family and I really liked this recipe, but I thought the sauce was a bit liquidy so I thickened it with a little flour. I also squeezed lemon on top of the finished dish to add a bit of citrus flavor to the dish. It was great, my husband sopped up the sauce from the pan with some bread cuz he loved it.
Sprinkle the meat with salt and pepper.
Melt 1/2 T Butter and 2 tsp of oil in heavy frying pan over high heat.
Working in batches, add meat and saute until just cooked through and golden, about 45-60 seconds per side.
Transfer to a platter and tent with foil to keep warm. Repeat with more butter and oil as necessary.
Melt 1 T butter and add 1 T oil in same pan over high heat. Add the mishrooms and shallots, sprinkle with salt and pepper and saute until mushrooms are golden brown, about 8 minutes.
Add wine, broth and saffron and simmer until the liquid is reduced by half, about 5 minutes.
Add cream and boil until the sauce thickens slightly, stirring often, about 4 minutes.
Add peas and return the sauce to a simmer.
Season sauce with salt & pepper to taste.
Pour sauce over scaloppini and serve with lemon wedges.