BarbryT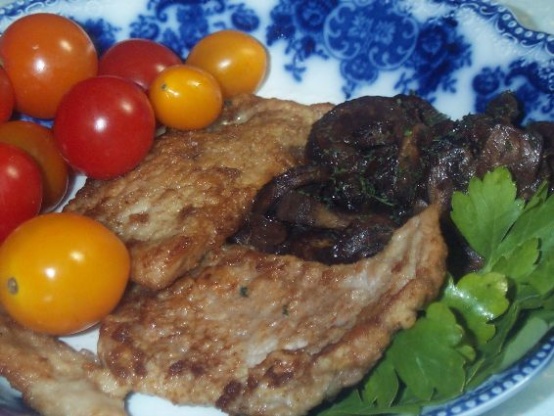 Ripped a page out a magazine years ago. What a great picture. It says "dinner classic: tender cutlets, gently browned, smothered in a flavorful mushroom-vermouth sauce. They show it on a platter with red cherry tomatoes and garnished with parsley.

It's very nice. I chose not to saute the cherry tomatoes since they are terrific just to pop raw at this time of year. I'm more inclined to saute cherry tomatoes to give them more flavor when they are not entirely in season. Thanks for posting this; I enjoyed trying the recipe.
Start to prepare about 50 minutes before serving.
On cutting board, with meat mallet or dull edge of French knife, pound veal cutlets to 1/8" thickness.
Cut cutlets into about 3" by 2" pieces.
On a sheet of waxed paper, coat cutlets lightly in flour.
In a 10" skillet, over medium-high heat, in hot butter, cook meat, a few pieces at a time, until lightly browned on both sides, removing pieces as the brown and adding more butter as needed.
Add mushrooms, vermouth, water, salt and pepper to skillet; heat to boiling.
Reduce heat to low; cover and simmer 5 minutes or until mushrooms are tender.
Return meat to skillet; heat through.
Stir in chopped parsley.
Serve with sauteed cherry tomatoes and garnish with a sprig of parsley.