Veal Cutlets With Fried Lemon Slices (Wiener Schnitzel)
Marlitt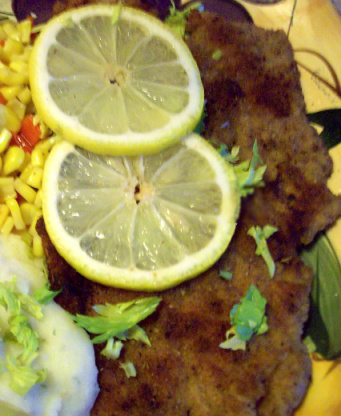 Also known as Wiener Schnitzel, these are light and delicious. You can also make this using chicken cutlets (breasts pounded thin). To make large batches of ready to cook veal cutlets, after step 2, place them in the freezer on the cooling rack. Once frozen, wrap cutlets individually in plastic wrap and place them all into ziplock bags and back in the freezer till needed (use within 4 months).

We enjoyed this, its very similar to the Vienner Schnizle my mom used to make but we didn't add all the herbs or the fried lemon. It was always served on a platter with fresh lemon though. I enjoyed the flavor the fried lemon added to the meat the photo has fresh lemon because it looked better than the fried in the picture. Thanks for another great recipe.
Using 3 shallow dishes, place flour, salt, and pepper in one, in another whisk together eggs and water. Finally, in the 3rd dish stir together bread crumbs, zest, thyme.
Dip cutlets, 1 at a time, into the flour, shaking off the excess. Then dip them in the egg mixture, letting excess drip off, and finally, dredge in bread crumb mixture. Transfer cutlets as coated to a large cooling rack and let dry at room temperature for 30 minutes to one hour. NOTE: This is where you would freeze them if making OAMC. Bake or fry frozen or partially thawed. For the lemon slices, mix the flour, cornmeal, and salt and pepper in a small bowl. Set aside.
In a heavy skillet heat 1 inch oil over medium-high heat to 350°F When oil is ready, begin frying the cutlets. Gently place in oil and fry about 2 minutes on each side or until golden. begin frying the cutlets, 2 at a time, about 2 minutes on each side until golden. Place on cooling rack to drain.
When cutlets are done, remove any food particles in oil remaining in skillet with a slotted spoon and discard. Dredge lemon slices in flour/cornmeal mixture, pressing firmly to coat. Fry lemon slices, turning them once, until golden, about 30 seconds per side. Transfer lemon slices to a cooling rack or paper towels to drain. Serve cutlets with fried lemon slices.