Veal Chops with Mustard-sage Butter
JustJanS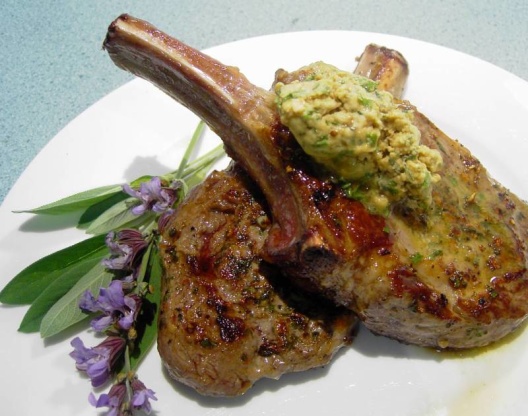 I love veal chops, but I like them cooked to medium, so we cooked ours about 4 minutes each side. I also reduced the olive oil to 1 teaspoon in the butter mix. I'm still not sure if I needed it at all, but 1 teaspoon seemed to work just fine. This is a good, easy, tasty recipe for veal chops, and I'm sure we'll make it again.
Rub both sides of veal with 1 1/2 tablespoons sage, garlic and pepper.
Cover and chill 2 hours.
Combine remaining 1 1/2 tablespoons sage, butter, vinegar, olive oil, mustard and parsley; stirring until blended, set aside.
Place veal on rack coated with cooking spray; place rack in broiler pan.
Broil 5 1/2 inches from heat (with electric oven door partially opened) 10 minutes on each side or to desired degree of doneness.
Place dollop of butter mixture on top of each chop; serve immediately.