PanNan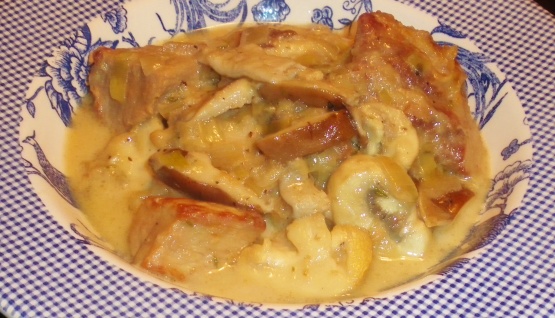 A fabulous slow cooker recipe from Canadian Living! You may need more salt depending on what kind of stock you use and your taste!

This got a two thumbs up from the family and will be made again very soon! Our butcher frequently has veal breast for $3.99 a pound and so I pick one up a few times a month to cut up and use in spaghetti sauce or stews. The only changes made were to omit the leeks (I forgot them when I went grocery shopping) and to add a few more cloves of garlic. I also just simmered it on the stove for about 2 hours. (4)
Trim veal. In a large plastic bag, shake the veal with flour to coat.
In a large shallow Dutch oven, heat oil over med high heat, then brown veal in batches and transfer to slow cooker.
Drain fat from Dutch oven and add 1 tbsp of butter. Fry onions, leeks, garlic and lay leaf over med heat, stirring occasionally, until onion is softened (about 5 minutes).
Add 1/2 tsp each of the salt and pepper, all the thyme and nutmeg. Stir in stock and bring to a boil, scraping up any brown bits from the bottom of the pan.
Pour over veal in slow cooker, then cover and cook on high for 4 to 5 hours until veal is tender.
In a large skillet, heat remaining butter over med high heat, then saute all the mushrooms and remaining salt and pepper until lightly browned (about 10 minutes).
Add to slow cooker along with lemon juice, then cover and cook on high for 15 minutes.Discard bay leaf and stir in cream and parsley, then serve!