Variation on My Piled up Potatoes
Jen T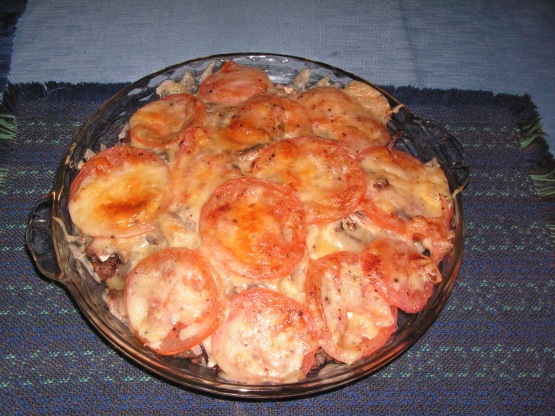 I made this recipe up based on my Piled up Potatoes using what I had on hand for a main meal. I added in vegemite to give a more beefy flavour but you could leave it out or use a teaspoon of dry beef stock powder. You could also fry the mushrooms first instead of using raw if you prefer. I found it went well with Lemony Garlic Beans (Microwave) by Mandy from Oz.
Peel and cook the potatoes in lightly salted water until just just tender, or leave skins on, prick and microwave til tender.
When cooked slice the potatoes into a lightly sprayed with oil, flan or quiche dish.
In a lightly sprayed non stick frypan saute the onion and mince breaking up any large clumps.
Stir in the vegemite and continue cooking until lightly browned. The mixture should be crumbly and without liquid. (known as dry frying).
Spread the sour cream over the potatoes and top with the mince mixture.
Spread over this the sliced mushrooms.
Top with sliced tomato and spring onion if using.
Finally top with the grated cheese.
Place in oven and grill for about 10 mins or until cheese has melted and is bubbly and golden.
Serve with a green vegetable for a complete meal.