Rita1652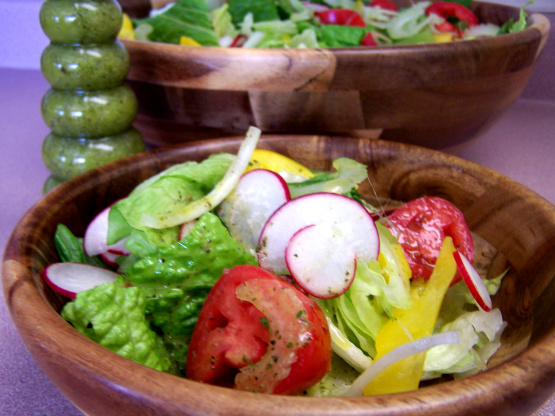 This salad is so refreshing and colorful! I found it in a booklet called "An Adventure in International Cooking" that my Mom helped compile for 4-H in Madison County (New York State) back in the early 1970s. The original recipe called for 2 oz. of anchovies, but since my family doesn't like their texture, I substituted anchovie paste so I didn't lose their great flavor! (Putting this in the Mid Atlantic region due to the wonderful Italian influence on the cooking of that part of the USA).
Tear Romaine and leaf lettuce into bite size pieces and place in a large salad bowl.
Cover with remainder of vegetables.
Refrigerate until serving time.
Whisk together olive oil, tarragon vinegar, anchovie paste, parsley, basil and salt in a small bowl.
When ready to serve, drizzle dressing over salad ingredients.
Toss to coat.
Serve.