Vanillekipferl (Vanilla Cookies)
Thorsten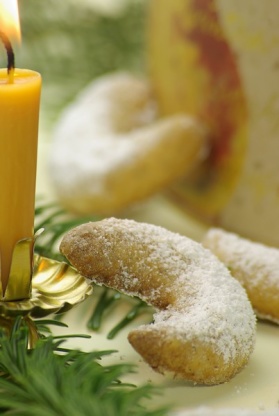 Vanillekipferl are very traditional German and Austrian Christmas Cookies. There is no Advent or Christmas without these typical cookies in the shape of a horseshoe or half moon. Use the best vanilla bean you can get, because it makes these cookies so special. The dough is a shortcrust and to shape the cookies might be tricky sometimes, because the dough will not stick together as you would like it to. But if that happens, the dough is right on, just be patient and take some time.
Half the vanilla bean lenghtwise and scrap out the vanilla pulp. Grate lemon to get the peel.
Sieve flour an put into food processor. Add vanilla pulp, grounded almonds, egg yolks, sugar, salt, lemon peel.
Cut cold butter into pieces and add to flour mixture. Mix in food processor until dough has formed. Don't overmix.
Take dough out of food processor and knead once or twice to form the dough.
Wrap into clinge film and cool in the fridge for at least one hour. You can also leave it in the fridge over night.
Preheat oven (180 c). Grease a baking tray.
Take dough out of the fridge. Take a small portion of dough and form a roll of about 1 cm in diameter. Cut this roll into pieces of 6 cm.
Shape these little rolls to make "half moons" or "horseshoes" (KIpferl).
Bake cookies for about 15 minutes until light golden.
Meanwhile mix mix caster sugar and vanilla sugar.
Take cookies out of oven and let cool on rack. While still warm dust them with the vanilla-caster-sugar mixture.
Keep them in an airtight container.
NOTE: time to make does not include cooling time. Baking time is given for one tray. Custom yield is a guess.
NOTE on Dusting: you can try other spices here. If you like cinnamon add some instead of vanilla. Or what is about cardamom or coriander. For a very different treat you could add cacoa and a bit of chili to it.